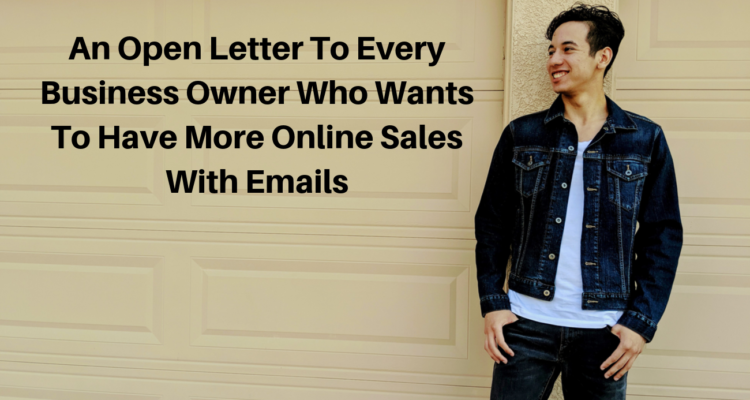 Dear Friend,
If you would like to make a lot of online sales with email this is going to be the most exciting message you ever read.
Here is why: My name is Anthony Nebel, and until very recently I was your basic email writer. I had a love/hate relationship with emails – some days I would watch my emails soar through the roof, maybe even flying all the way to heaven… while the very next day my emails would absolutely drop down to bonkers. I swear I stood at the edge of the proverbial cliff, one emotional hair-trigger away from tossing the whole mess and never stepping up to write another email again.
Doesn't it drive you nuts? I had no consistently to my sales at all, even after 3 years of marketing online. No way to tell what each day would bring. And it wasn't for lack of trying, either – I'd easily dropped several hundred dollars having "online guru's" tell me what a horrible email I wrote, and if I only started with using thiiiiiis certain subject line…

Fortunately, I'm The Kind Of Guy Who Will Put His Nose To The Grind And Figure Out Why My Emails Weren't Making Sales.
And after years of writing emails for clients, I was finally able to figure out how to make online sales with emails.
I had learned how to write emails with so much new power that I was consistently watching my open rates soar.
I saw a 10% improvement overall in conversions for email (Where my old emails would only tickle 1 out of 100 subscribers)
Plus – incredibly…
Writing these emails that created devastating profits became second nature to me.
And it just gets better and better. My emails were actually being read…and people started replying to me about how my emails made their day. I have also learned a bunch of other stuff like branding, marketing, funnels long the way.
And luckily…
You Don't Have To Go Through That Pain-Stakingly Long Journey Of Learning How To Write Killer Sale Emails When You Have Me!
I made it my business to know everything about email marketing. Things like open rates, open loops, click-through rates, how its different from sales letters…and on and on and on…
So What Can You Expect From Me?
Dramatically increase open rates for your emails (so customers actually read your message.)
Have people EXCITED to read your emails (and maybe even get replies from them)
Make people feel so hot and bothered they NEED to buy your product (and turn them into a lifetime customer.)
Increase your AOV value for your existing customers with just a simple tweak (and be astounded by the sheer simplicity.)
Generate QUALITY leads for your products and leave it on autopilot after setting it up (saving you valuable time to invest in your business.)
Increase the number of sales from existing AND new customers (and watch your bank account rise.)
But Sadly, I Am Not Superman And I Can't Do Everything For You!
This includes:
Write Advertisement Jingles.
Manage Your Facebook Campaigns.
Build Your Email List From Scratch (Might as well make me co-owner of your business)
So Who Can Benefit From This Down-To-The-Earth Email Copywriter?
A business owner who wants to generate more HOT leads for your online business store who are rabid customers begging to buy your product?
A stay-at-home mom, dad, student, dog, cat, or anyone who blogs and doesn't know an effective way to build an email list rapidly.
A business owner with a brick-and-mortar store and want more people to come into your store and be EXCITED to hand you their cash IMMEDIATELY?
An eCommerce store owner who doesn't have the time to focus on emails but knows its vital to increase sales (and increase the cashola in your pocket!)
Someone who has anything to sell? Products? Services? Yourself?
Someone who just doesn't want to write their own emails and wants a reliable, friendly guy who knows what he's doing (that's me by the way…)
Here's How I Will Create A Profit-Pulling Automatic Sales Email That You Can Reuse In Your Business:
Step 1: A Friendly Chat To See What's Up
This is where I need you to give me a quick and dirty rundown of your business. I need to know exactly what your business is and your current strategy so I can start making a plan to help make you more moolah.
I might ask you:
What's your name?
How are you today?
Is your offer TRULY what your customers want?
Why are your email subscribers NOT buying from your list?
Who are your competitors and why are they choosing them over you?
What exactly do you need help with? And will that actually help improve your business?
I can craft godlike emails for you but if that's not what you REALLY need right now, then we might as well flush that text down the toilet.
You need a SOLID marketing strategy plan along with eye-catching emails if you want to make more sales. They go hand by hand. One can't exist without the other.

Step 2: I Will Do All The Necessary Research For Your Specific Business
I'll create a unique concept for your specific niche while researching everything about your ideal customers. This may include their dreams, desires, fears, hope, anything that bothers them constantly, their daily lives, etc.
And then I'll use your specific voice and brand to make your emails consistent.
Step 3: Launch Your Email Campaigns Into The Wild
At one point I will have to send out these emails to your customers.
And that point is when I have done enough research to finally UNDERSTAND the audience to make them STOP whatever they are doing like a deer in headlights and open your email.
AND THEN they read the actual email like a greased slide until they click on your link.
You can rest easy with your email software as I'll do all those complicated segmentation and email timings for ya.
Step 3: Testing and Optimizing Your Emails (Where The Real Money Is Made)
This is when we get back the results from the initial email campaigns and analyze the data.
Unfortunately, our journey doesn't stop there for your thirst for more moolah.
We gotta test test test. And then test some more. And once you think we are done testing, I throw another sneaky test that improves your conversion rate by another .1% (and you will never see it coming.)
But I never test blindly. Ohhhh no. That's what rookies do and I ain't one of them anymore.
Once we get the initial results from the initial email campaign and analyzed the data, I then make informed decisions on what to test next.
This is when I start to ask questions to myself like:
What was the most opened headline?
Which copy had the most clickthrough links?
How should I change the copy to have better results?
Is there something on your landing page that isn't working?
Maybe a different email segment would be more profitable?
Is this a quality email list?
How hot are the buyers right now?
Do you have a good relationship with your email list?
Does this product or offer actually respond to what the people need?
And then rinse and repeat.
Let's Start A Project Together Today!
If you are interested, then email me at anthony (@) anthonynebel.com the following:
Your Full Name
Your Email Address
Your Website
What general market are you in… how long have you been in business… and what products or services do you offer?
Don't worry…I'm not a hard sell kind-of-guy.
We are just checking if we are a good fit for each other.
If we aren't a good fit…no problem and no hard feelings. I understand we need different things.
On the other hand, if we are a good fit… then get ready to watch your sales skyrocket with emails.
But hurry and book now as I only have so many hours a day to work with clients.
Cheers,
Anthony Nebel
P.S. This is a first-come-first-serve basis so if my schedule is busy I may have to put you on a waiting list. I only have so many hours a day to work with clients so you better hurry up if you want to reserve a spot!