"The money is in the list…"
You probably heard that building a strong email list is one of the best things you can do for your business because of the insane ROI you can get from it…
And I truly think it is.
Email marketing can be a powerful tool for promoting your business, driving sales, and growing your email list.
But that's only if you build your email list right from the get go.
It's not effective if you have an email list of 10,000, yet most of them aren't interested in your product.
That's why this guide is going to show you how to build an effective email list so that you can start making conversions and sales for your business.
So let's get started.
Why Should You Build An Email List?
So what is up with the hype of an email list?
One of the main reasons is because when you build your email list, it's yours.
Even if:
Facebook bans you
Google disapproves of your messaging
Youtube takes away your channel
But your email list is yours to keep. This puts you in control of your fate with email and no one to stop you.
The second reason you want to care is because of a complicated term called retention marketing.
It's just a fancy-schmancy term which means the customers are loyal to you and keep coming back for business.
You've probably heard the saying that it's much more profitable and easier to sell to an existing customer than to find new ones…
Which makes sense since those existing customers are (hopefully) satisfied with your business and know what to expect.
Whether that's an:
Amazing product
Amazing service
Amazing branding
Or all of the above
Email is a way that can communicate all of that so that these existing customers remember you to buy from you again.
And over time, their LTV (lifetime value) will increase the longer they stay as they enjoy reading and gaining value from your emails, increasing your profits and relationships with your customers.
So yeah, email is something worthwhile to pursue.
You can use email to deliver personalized messages at scale and build genuine relationships with your subscribers over time by offering them valuable content that helps them meet their goals.
How To Build An Email List
Now let's dive into the specific steps on how to build an effective email list that will make people want to join your list.
So let's dive right in.
1. Use a Lead Magnet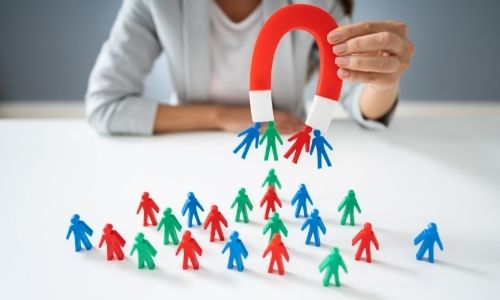 A lead magnet is a fantastic way to build your email list.
Think of a lead magnet as an incentive or "ethical bribe" for your customers. In exchange for their email, you provide them with something they want.
Ideally, you want to give something that's a no-brainer to give away.
This can be anywhere from:
A valuable eBook
A case study
A guide on how to save the world in 5 easy steps
A concise guide on how to make money while doing nothing
Basically, anything that would make sense to give them for they think it's worth it to give them their email over potentially getting spammed by that business.
And something so valuable that they would want to use their actual email address instead of a fake address (like some people do for the coupon code…)
Either way, lead magnets are an effective way because you are providing value upfront.
If your email list was a meal at a restaurant, your lead magnet should be that appetizer that makes you really look forward to your entrée.
It's the same concept as the lead magnet.
People want an amazing lead magnet because they hope that the emails you provide in your newsletter will provide them with greater value.
You also want to make your lead magnets customizable, depending on what your business is.
For example, let's say you are a marketing agency with blog articles on different topics like SEO, copywriting, freelancing, etc.
What you want to do is look at the 3 highest traffic coming to your blog sites and create personalized lead magnets for each.
If a guide on SEO was your most traffic blog post, then copywriting, then freelancing…
Then you want to create respective lead magnets for each blog site to cater for each individual.
Then you would want to use that to help segment your list so that you can personalize your emails for your customers' specific needs.
Therefore, you see specialized lead magnets work so well because if you're looking at power words for copywriting, then have a list of 1,000 words for power words.
And you have that PDF download available with just your email. The intent is there so they will most likely give you their email.
It's little tricks like these that help with conversion rates and this is how you build a list with intent that's willing to consider buying your products.
2. Drive Paid Traffic
Another way to build your email list is through paid traffic. Paid traffic is a great way to build your email list because it allows you to generate email addresses at scale.
I would consider paid traffic if you want to grow your email list as quickly as possible.
However, you want to make sure that the lead magnet you are advertising applies to the target audience and to your brand.
So if you're an online course creator, putting things like 5 tips on how to be your own course creator may sound like a good idea, but it may not be if you are trying to get them to buy your own course.
It all depends on the goal that you want to achieve for your email list.
If we continue with that example, it's a great idea if you want to sell a course on how to let other people learn how to buy courses. But if your goal is to find clients to hire you, then you would want to create a relevant ad that brings back that purpose.
And once you do that, make sure that you automate the entire process with your email platform so they can land directly to your landing page and email sequence without thinking about it.
One thing to consider when using paid as though is to be careful of the "freebie seekers."
Now, it may seem all nice and dandy that people are building and subscribing, but most of these people may not even consider buying.
They just want that free eBook and then they are out.
That's why if you want to go for a more quality list instead of quantity, it would be better to charge something like $0.99 cents for an amazing deal.
You would sell something that's way more than a dollar, but you would get their email to upsell.
What you are doing is separating the people who bought from the people who just want free stuff because it's easier to sell to people who have bought from you before.
And when you curb them like this, it makes it easier to build a quality list of people who have already bought from you.
And this is how you build a win-win and profitable relationship with your customers.
3. Use Organic Traffic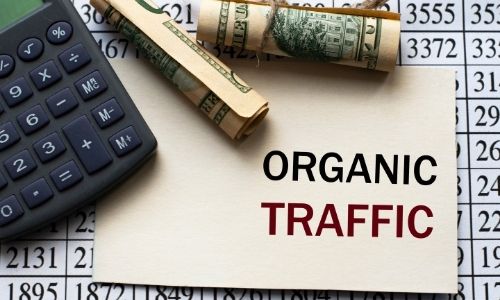 Organic traffic is probably the best way to get your email subscribers to a high number without spending excessively on paid ads.
However, it's a lot harder to do it with organic traffic because of two reasons:
Your content needs to be good
You have to be ranked first page on Google
But if your content is on the first page, then it most likely is good content that Google likes that makes readers want to stay on it. Otherwise, it wouldn't last that long on the first page.
SEO and learning how to optimize your website and get first page on Google is another topic but is highly lucrative because of the amount of traffic and money you can generate whether it's from learning about your business, people noticing your brand, or *cough* emails.
However, one of the best things to do is to optimize your blog post for a keyword each.
You want to provide something that the reader wants for that specific keyword.
So if someone searches "How to get a puppy to like you…"
Your article better damn well show how to get a puppy to like them.
When they log on, then they will read your article to see if you're legit.
And if it works, then they would build trust and credibility, making them consider checking more articles on puppy training with your blog posts, which would make them consider subscribing to your emails to see what they're about.
And if you give them puppy memes, and helpful tips on puppies, then they are going to become loyal, which would make them a great customer for a long time.
And it's doing this for whatever niche and over time, as more people find blog posts, more and more people will start subscribing to your email list.
And as you build credibility, you can start ranking for other blog posts to 1, where more people will hear about you snowballing your email subscribers list.
And this is how you build a strong email base of loyal customers without spending a fortune on paid ads.
4. Do Sweepstakes
Sweepstakes is another powerful way to build your email list.
This is because if it's done right, it will reach a lot of viewers and people interested in your offer for something that they can get for free while just giving them their email address.
So you see those restaurants with those crazy viral shares and likes, or those comments that are like "Like, comment, and subscribe to be part of the sweepstake to get a $50 Amazon card…"
It's all a purpose to help build awareness so more people can learn more about your business.
But you can use the same method but with your email address.
You can do it on social media where you say "Share and opt-in to be eligible for our prize…"
If it's something that people want, then they are going to want to opt in.
There are also apps that give them more chances for them if you let them share it on their social posts or like and follow.
It's these incentives that make it possible for it to go viral or at least get more eyeballs on your restaurant.
However, sweepstakes will always work since people love free stuff.
And it's an amazing way to do business because it's a win-win situation for the customer and business.
The customer gets their prize, and the business gets awareness and emails to later market to.
Plus, you can show a picture of them getting their prize to build social proof that you're legit and honor your prizes.
It's these little things that can help build your email marketing game, which you can promote via social, email, or word of mouth, so that more people join.
And when your email list grows the first time, when you do a second sweepstake, more people are going to become more aware exponentially growing your sweepstakes if done correctly.
That's the power of sweepstakes.
5. Pop-ups Throughout Blog Posts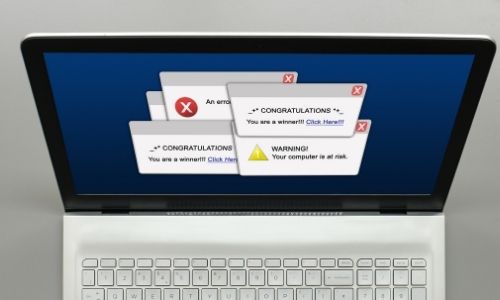 Pop-ups are another powerful way to build email lists.
Pop-ups are one of those things that people find annoying but work.
People underestimate pop-ups, but they work.
They can lead to higher email opt-in rates and, because of that, they are a powerful way to build your email list.
You should place them on blog posts where you want people to enter their email address before reading the other parts of the post or at least provide some value first so it doesn't feel like you're trying to sell them something.
Another way of using content locks with email list building is by placing email opt-ins at the end of your blog posts on a lead magnet on something that will add further value.
So if you have a guide on the Ultimate guide on SEO where you just dumped literally all the information available, then the smart thing to do would be to add something like an SEO checklist with an email subscription. Or access to a free video series going on how to implement these techniques for your blog.
It's these little things that although it may build your email list slower since your email opt in is all the way at the end of the article, the quality will be crisp.
And this is how you build a powerful list.
You don't need that many people on your list to make a ton of moolah. You need just a certain amount of quality contacts in your list to make it worthwhile.
And with your blog posts you can make it ongoing and evergreen by continually updating it with organic traffic running towards it.
Another pop-up that's also incredibly powerful are the ones that appear right before you exit the page.
Think of it as a last ditch effort.
With this last ditch effort, what you are doing is that you are giving them one more chance to drop your email subscription. So if you have a blog post, show them something useful that applies to that specific blog post.
So if the blog post was about which shampoo to buy, you can have a lead magnet on a list of the things you need to keep a lookout that isn't described in your store.
If you're an ecommerce store, then you would want to consider putting a last ditch coupon code or something that applies to them.,
You can customize it further, depending on which page you are looking at. So if you are giving a generic coupon code for 10% but they are looking at your jeans, you can give them a 15% discount on jeans for a limited time with their email.
This will definitely get the impulse buyers helping you save the sale while getting their email to further upsell and cross sell them in the future.
It's the way you use the pop-ups that can build you a powerful and large email list.
6. Enabling Opt-Ins and Double Confirmations
This may seem counterintuitive, but enabling opt-ins and double confirmations is great.
But why would this help? Because we are trying to build a quality list over quantity.
It's much more valuable to have 1,000 email subscribers who are heavily engaged than 10,000 email subscribers, with most of them signing up just because of a freebie.
This helps because email subscribers will be more likely to engage with your email offers.
Another reason this helps is because it shows that they will give you their email address twice, which means the email list subscriber must've given them some value already and therefore can lead to future business or sales.
This makes your email marketing campaign much more effective.
I've noticed that when I add obstacles for people signing up to my emails, it deters the freebie seekers a little more and makes the subscribers more interested because now they feel "committed" to joining your email list.
This is with all the things like:
Double opt ins
Enabling confirmations checklists
Telling them to reply if they haven't opened your emails
It's all these barriers that will weed out the people not interested in your emails and make your loyal customers more engaged.
Now, there's a reason I prefer this method over making it as frictionless as possible with just single opt-ins.
Some reasons are:
Bots have a harder time joining
It deters the freebie seekers slightly
Makes it more annoying for people signing up with their alternate emails
Etc.
7. Offline list building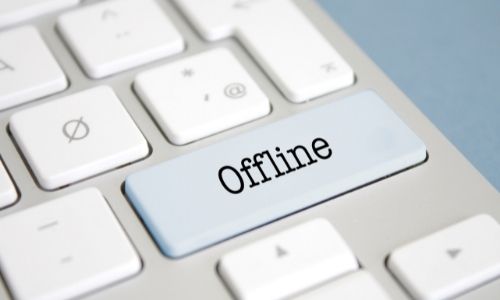 This is the old school way of building an email list, but effective.
This is because when you do it offline, email subscribers have a stronger commitment to what you provide.
You can get them via:
Cold calling
Talking in person
Or even a direct mail campaign
Just because it's not really talked about doesn't mean it's not effective.
It may have more quality since it requires more effort to sign up than a website…
But offline has its own advantage.
This is because the email list subscriber went out of their way, got your business card and entered their email address in order for you to get them into your email marketing list.
So don't neglect it just cause it's "old."
These customers may be potentially warmer and more likely to buy in your list.
Conclusion
Hope you learned something about how to build an effective email list.
Whether it's for a personal brand, eCommerce store, or even for fun (yep… that's possible) I hope you learn how to build a quality email list with customers buying from you.
If you have any questions, just comment below!
Cheers,
Anthony